Custom Cakes for Every Occasion
Mouthwatering flavors and gorgeous designs for weddings, birthdays, and more
Custom cakes that are as memorable as they are mouthwatering — that's the Craig's Cake Shop goal. Every cake is handmade in our Verona shop with the finest attention to detail. Whether it's a wedding, birthday, graduation, or one of life's other precious milestones, we know that the perfect dessert can make your celebration even sweeter.
For a custom cake, mousse, and filling flavor combination, please get in touch with us at least a week in advance. We also bake and fill some popular flavor combinations during the week — give us a call if you have a last-minute cake need, and we'll see what we can do!
Customize your cake with flavor, mousse, and filling options
Each Craig's cake consists of two layers of moist, flavorful cake separated by the mousse of your choice. Our cakes are tall and filling — the mousse layer alone is nearly one full inch! For an extra pop of flavor, we can also add an additional filling as a split in the top layer of cake or candies in the mousse if requested for an additional charge.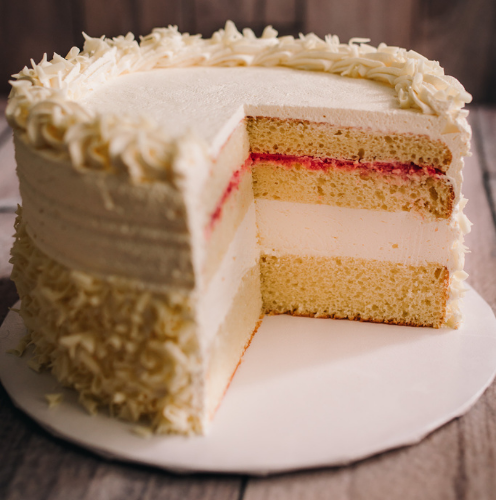 CAKE FLAVORS
Chocolate
Vanilla
Red Velvet
Lemon Poppyseed
Strawberry
Peach
Banana
Orange
Carrot
Pumpkin
Gluten-friendly Chocolate*
Gluten-friendly Vanilla*
Vegan Chocolate*
Vegan Vanilla*

*$5 up charge for GF or Vegan flavors
MOUSSE FLAVORS
Chocolate
Chocolate Mocha
Chocolate Peanut Butter
Peanut Butter Mousse
French Vanilla
Lemon
Key Lime
Cheesecake
Raspberry Cheesecake
Strawberry Mousse
Cream Cheese Filling*
*Our cream cheese filling is not light and fluffy like our other mousses — instead, it is sweet and rich. Traditionally, our cream cheese is the filling in our carrot cakes.
ADDITIONAL FILLING OPTIONS
Raspberry Jam
Strawberry Jam
Lemon Curd
Blueberry Curd
Fudge
Cream Cheese Filling
Oreo Cookies
Peanut Butter Cups
Cake Servings and Sizes
ROUND CAKES
10 servings  |  6″ round  |  $30+
20 servings  |  8″ round  |  $45+
30 servings  |  10″ round  |  $58+
44 servings  |  12″ round  |  $69+
SQUARE AND RECTANGULAR CAKES
36 servings  |  8″ square  |  $57+
24 servings  |  1/4 sheet (single layer 8×12)  |  $49+
48 servings  |  1/2 sheet (single layer 12×18)  |  $74+
48 servings  |  1/4 sheet  |  $74+
96 servings  |  1/2 sheet  |  $135+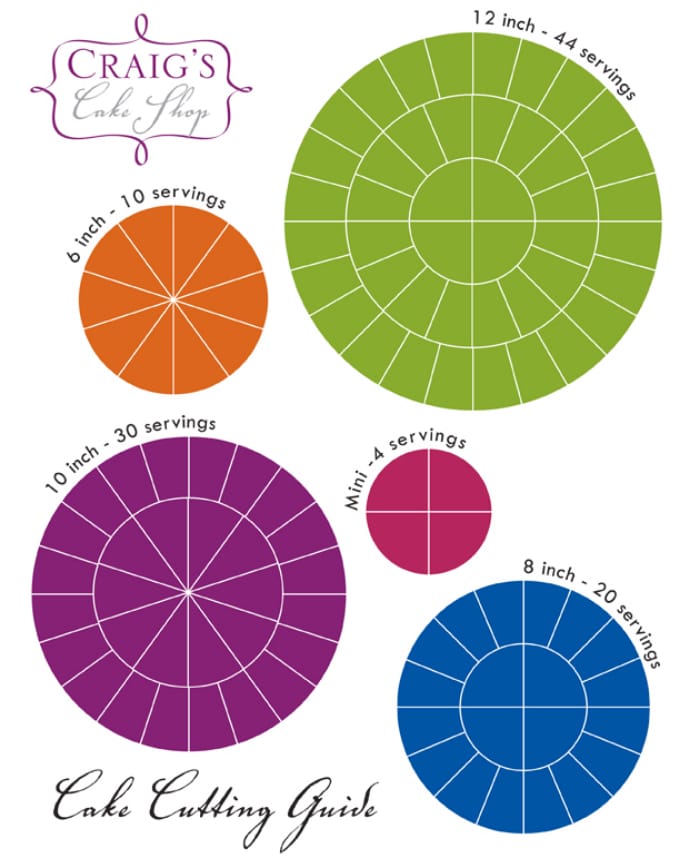 Our perfect cake cutting guide
For 4″ or 6″ cakes, cut through the center accordingly. You'll want to make five cuts for ten servings from a 6″ cake, and two cuts for four servings on a 4″ mini.
For cakes that are 8″ and larger, cut 2″ into the middle of the cake every 1.5″ around its circumference. Serve those slices, and work your way towards the center to keep everything fresh.
For double layer ¼ sheet cakes, cut eight slices along the long side and six slices on the short side. For double layer ½ sheet cakes, cut 12 slices along the long side and eight slices on the short side.
For 8″ square cakes, cut six slices along one side and six slices on the other.
With these serving recommendations, your cake servings will each be approximately a 1″ by 2″ piece. Single-layer ¼ and ½ sheet servings are based on a 2″ by 2″ piece.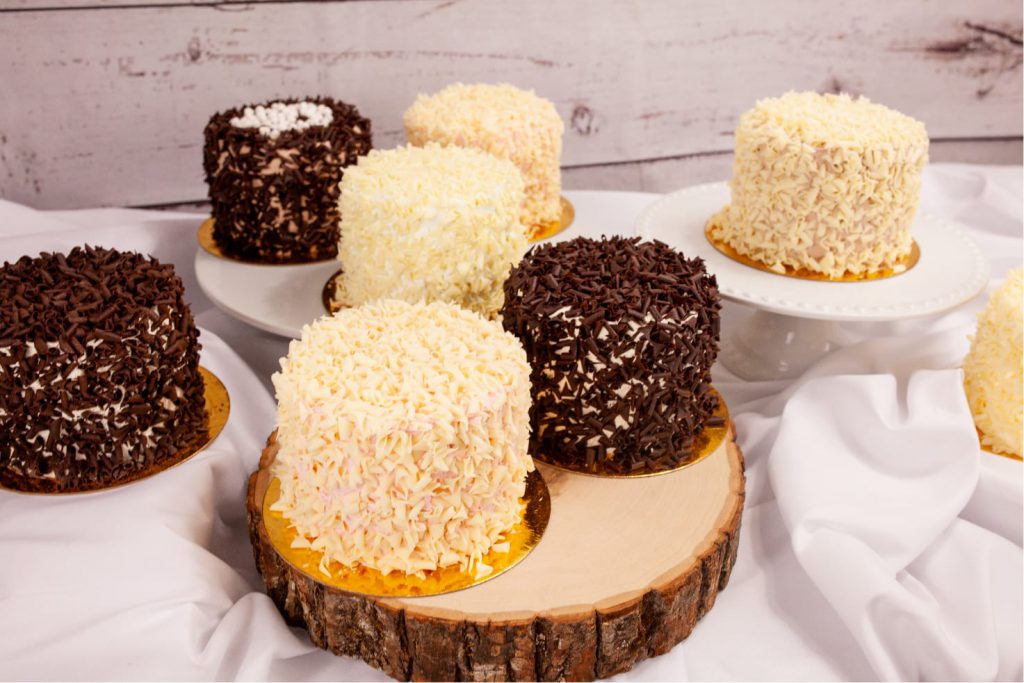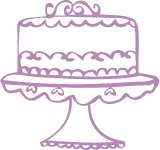 4″ Mini Cakes
Does a full-sized cake seem like overkill? Don't worry — our 4" mini cakes with 4-5 servings are the perfect small treat.
Craig's Cake Shop allergen information
Dairy, soy, peanuts, eggs, gluten, and coconut oil are some of the known allergens used in our Verona, Wisconsin cake shop. Common kitchen equipment and utensils are used in all cake assembly and decorating.
Some decorations including, but not limited to, sugar crystals and jimmies/sprinkles are prepared and packaged using machines that may come into contact with wheat, gluten, eggs, dairy, peanuts, soy, or tree nuts.
Please consider this information when choosing to consume our cakes and other custom desserts. If you need additional information, call us at (608) 848-6331 to speak with our manager about your allergies.